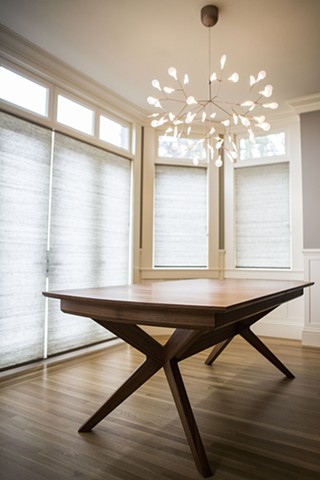 Heather Trosdahl went to College of the Redwoods with fifteen years interior and scenic design experience and a desire to learn craft and refine her skills, believing that learning the discipline of traditional craft is important. Based in Minneapolis and Chicago, where she studied under Berthold Schwaiger at the Chicago Bauhaus Studios, Inc. and Chicago Bauhaus Academy NFP, Heather produced work as a member of the Ivy Arts co-op.
Both then and now, she is interested in contrasting materials, clean lines, and traditional joinery in a way that achieves an aesthetic balance between contemporary design and traditional craft. Heather believes that gorgeous handmade design should be within the reach of the urban apartment dweller and is interested in making objects that are functional, practical, and sculptural.
Currently, Heather is building custom pieces and creating a small line of production furniture in Oakland, California. She can be reached at heathertrosdahl@gmail.com.